Hey there, nice to meet you. We are the team at Fringe.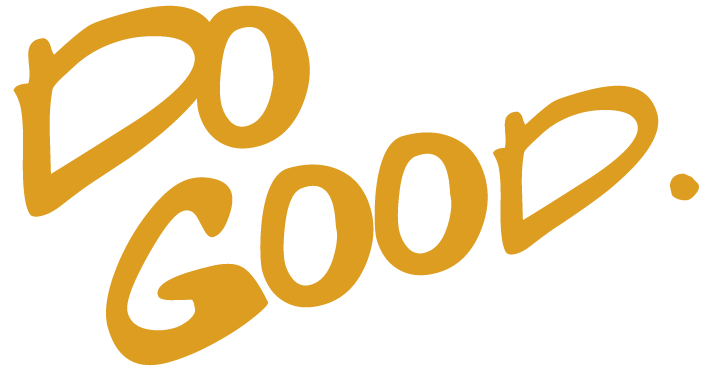 Our mission is a simple, but important one:
To create products, content, and community centered around healing. 
To do good.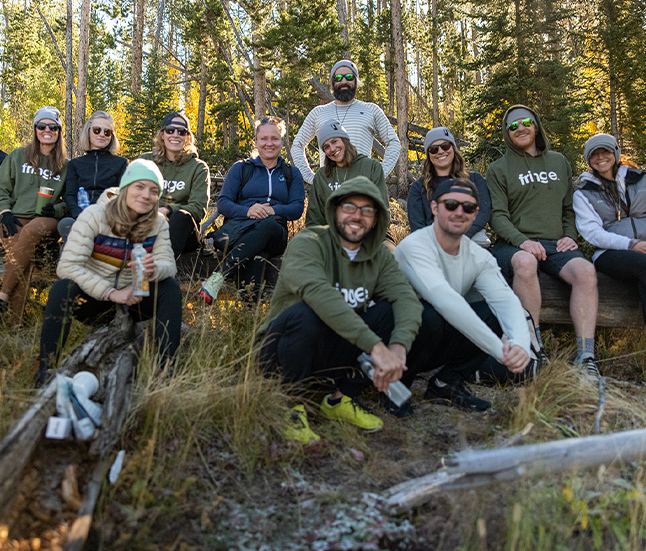 hey there, nice to meet you
We are the team at Fringe. We are a curious, passionate, outer-edge-living, nature-dwelling, music-loving, drum-beating group of fire-starting humans. We share stories about the powerful ways our ancestors healed, and provide solutions for utilizing their wisdom in our modern world.
We are passionate about connecting today's science to those powerful healing stories from our past. We dive into natural health topics and provide the science behind all the things your grandmother's grandmother did to heal – like making sure the cells in our body get the energy they need from the incredible power of light.
Thanks for being a part of this journey with us.


let's get together & feel alright
Want to chat more? Come meet us in our Online Community - The Fringe! We'd love to get to know you.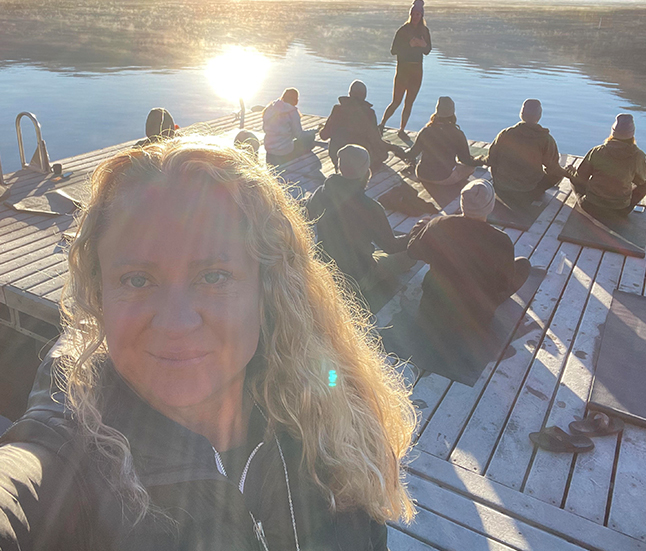 Alyson Evans, DC
CO – CEO & FOUNDER
Hi. I'm Alyson, often called Aly, Al or Dr Alyson depending on what decade of my life I was in. 
The idea of 'Fringe' had been brewing inside me for a very long time. A company that would help a lot of people, make people feel welcome, change the principles of 'doing business' and most of all create a space that everyone, including myself, could learn and grow. 
 I have been fortunate to be surrounded by some incredible people in my life. They have shaped me and taught me so much about friendship, leadership, and love. There are many founders with a long list of accomplishments, but I am not one of them. However, I have a long list of relationships that I hold sacred in my life, and because of that – Fringe had a solid foundation to form. 
I simply love building on ideas, building teams and building companies from small sparks into big bonfires.  The daily rituals of Gathering, learning, leaning in and working hard towards a common goal with a team – this is home for me. 
Perhaps best put this way – I am a dreamer. I feel things as real, long before they exist. I do my best to keep my head in the clouds and my feet on the ground, so those dreams become real for others. 
Fringe is a name that implies 'the outer edges' or 'unconventional' and it meant a lot to me to have established a company where this philosophy of life and living is embraced. The fringe is where change happens. As a nation, we are sick. We have become completely disconnected from the natural world. We stand on the shoulders of the generations who came before us, that had wisdom about healing that we have forgotten. Everything we need to heal is within us, and around us. It is time to start talking about what really makes us feel well. It is time to be on the fringe. 
Fringe was my dream for many years and now it's ours to share, our team will continue to grow, and I couldn't be more grateful to those of you inspired to come along on this wild ride.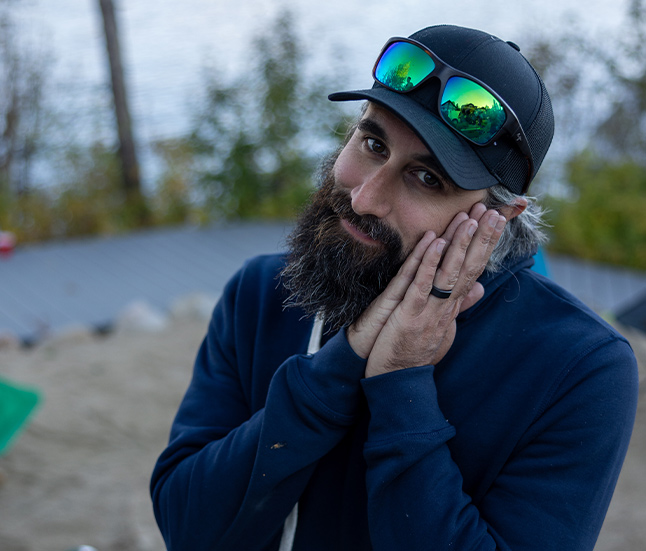 Anthony Caligaris
CO – CEO & FOUNDER
Okay. Founder's note time. Time to write something insightful, inspiring, humble, but with a big vision to change the world that doesn't scare anyone away. No big deal.
Here goes.
My name is Anthony John Caligaris and I was born in foggy London in 1984. We moved to Philadelphia when I was pretty young, and then after a few years, headed out to Northern California where I did most of my growing up. 
NorCal is a unique place, a beautiful place in a lot of ways, but it's not immune to some of today's greatest challenges. There's an unmistakable hustle culture just below the biohacking and wellness surface, and I think that culture is killing us.
It was killing me, anyway. 
For a solid 6 year period my career skyrocketed. I made more money in a year than I had in the previous 8, but I was sick, unhappy, and I was afraid I was literally dying. I was dry heaving every 5 minutes all day long and my brain fog made it nearly impossible to engage in life. I ended up getting an MRI and blood work done thinking that maybe I had a brain tumor…
…but it was just stress. That was it. Just stress. And I have an amazing life, with amazing family and friends, so the only culprit here was work. I was shocked that work could have that much impact on me.
So I quit. And we started Fringe with a big bawdy bodacious goal: to heal the world. 
You'll see on our site, in our digital community, and everywhere that we say words that our goal is to connect yesterday's medicine to today's science in an effort to bring those modalities back into common practice. You'll probably also notice that I'm one of the only people on this team without a medical degree. So what am I doing here? 
My background is in economics, organizational management, and the desire to one day execute a killer cartwheel. But what I'm here to accomplish is to prove the efficacy of a new business model. A model in which customer satisfaction and employee wellness and retention are our north-star metrics. 
I wholeheartedly believe  that there's a better way to do work, and I'm at Fringe to prove that "soft" metrics actually have profound economic impact. If we can accomplish a new model based on that concept, perhaps we can slowly start to chip away at the hustle vibe as the only option for work, forging a path back to wellness not only in our lives, but in our work. 
I'm psyched. Let's get started.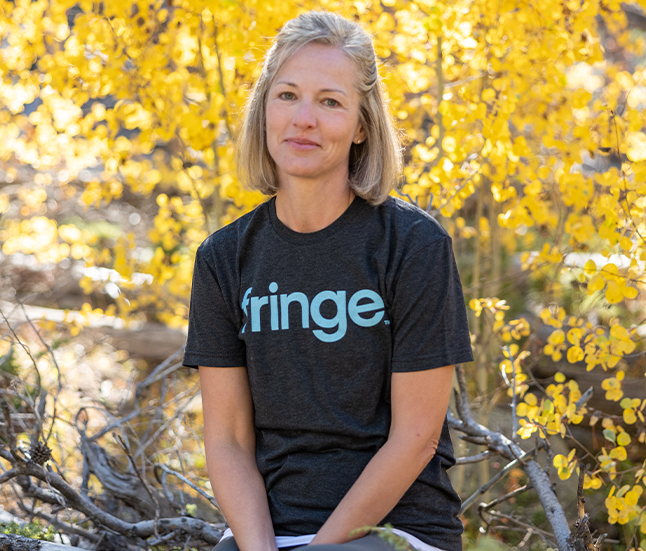 Genevieve Newton, DC PHD
SCIENTIFIC DIRECTOR
Bio:
My name is Genevieve Newton and I am the Scientific Director of Fringe. My job is to "bring the science" that supports our education.
A lot of what I know about health I learnt in school. I have four degrees: a BSc, DC, MSc, and PhD. I've spent literally thousands of hours studying every system of the body and dissecting how it works. I've worked in research labs with cells, animals, and human tissues, and I've run clinical trials and observational studies with people ranging from preschool aged children to adults. I've had a lifelong passion for education. However, my deepest and most cherished lessons about health have come from my own life.
By the time I was a young adult my type A tendencies were well established. I thrived on success and productivity – the more the better, although in retrospect, I realize that none of my achievements ever helped to make me feel like I was anything other than an imposter. Sure, I got an A, but that was just luck. That scholarship? Must not have been many people apply! No matter what I did, I always had a harsh inner critic that spoke to my unworthiness.
In 2015, I had to have surgery for a chronic health problem. I had post-surgical complications, which resulted in being off work for six weeks. I will never forget the gratitude I felt at being given a bit of a break from all of my responsibilities. This should have been the wake-up call that I needed to slow down, but it wasn't. I started up again at full speed as soon as I was recovered.
My health started to deteriorate. Badly. In late 2017, I fell into a depression that continued to worsen over several months. I was used to cycling moods, which had plagued me since early adolescence, but this was different. It wouldn't let up, and it brought me to some really dark places. My doctor suggested that I take a leave of absence from work, which I did through the summer of 2018.
I felt like I had room to breathe again. I went on two trips with some of my best girlfriends. When I was away, I had an "aha" moment: I realized that I was deeply unhappy with my life. Not the details of it, but the way that I engaged with it. That was the beginning of a new way of being.
My health challenges continued, though. The nagging back pain that I'd had since my early 20's progressed to the point where I was in constant pain and couldn't sit. I had to retreat from the world again and try to figure out how to heal. The journey brought me through previously unexplored realms of healing, especially complementary and alternative, and even though my back problem ultimately required surgery, I experienced deep and profound healing in many other ways through all of the practices that I engaged in. I came to recognize the interconnectedness of body, mind, and spirit, and the need to always care for oneself, as well as others, with love and compassion.
I now look back on this journey of mental and physical breakdown as being the greatest gift of my life. It led to a complete inner transformation, and a new way of being in the world. Paradoxically, my life was the same as before, but everything was different because of the way I perceived it. It's incredible what a shift in consciousness can do.
I emerged with a personal ecosystem that included things like breathwork, mindfulness, and energy and plant-based medicine, which maintain my harmony and balance. This is the framework that informs how I engage with the world in every moment.
In early 2021, I sent Alyson Evans, one of my dearest friends and founder and CEO of Fringe, a text. Among other things, I told her about a dream I had just had that I was working for her new company. She responded that she had been thinking the same thing. When she shared with me the Fringe ecosystem, the companies' guiding vision and framework of health and healing, imagine my surprise to discover that it was a perfect mirror to my own. Coincidence? I don't think so.
Everyone at Fringe is unique, but we all share the same values. Whole person health. Harmony. Mind, body, spirit. Connection and belief. The power of community.
I am so excited to be able to contribute to Fringe by translating the science that supports our mission. As a scientist, I am always trying to understand how things work. But I also embrace not knowing. Together, I hope that we will not only walk well-worn paths of healing but will also blaze new trails, continuously expanding our understanding of what it means to be truly healthy.
As one of my favorite teachers, Roshi Joan Halifax, says in her book "Standing at the Edge: Finding Freedom Where Fear and Courage Meet," growth happens at the edges. It is the place of our greatest transformation.
On the Fringe.
Genevieve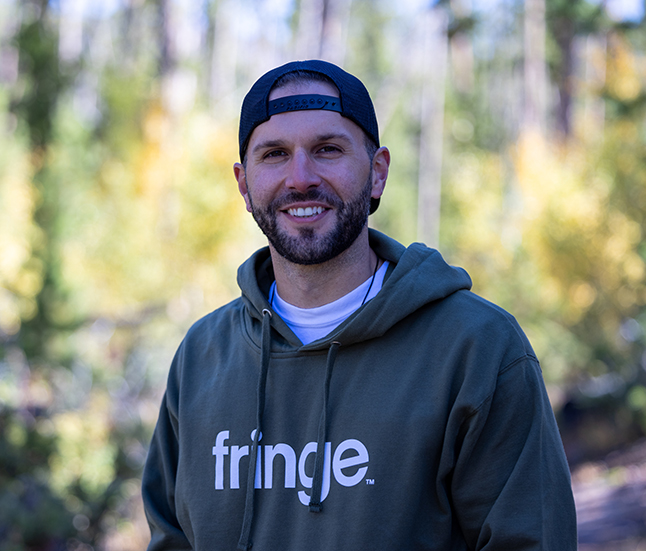 Joe LaVacca, DPT
LEAD EDUCATOR
Bio:
Joe LaVacca is a Physical Therapist based out of New York City where he owns his own private practice; Strength in Motion Physical Therapy. Joe's focus on communication, emotion, and education are the 3 primary tools he uses to build empowerment while teaching and with his patients. Joe is the lead educator for Fringe Inc, a company focused on building a community for human beings to support one another, while promoting and celebrating the very things that make us who we are.
It's Personal:
"Knowing is not enough, we must apply.  Willing is not enough, we must do." – Johan Wolfgang von Goeth
About Joe LaVacca, PT, DPT
Growing up my friends and I had a mantra, "When do things not work out?"  Essentially what it meant was this: no matter what, and especially in tough situations, things will play out the way they are supposed to and we will adjust to whatever that outcome is – really we did not have a choice after all.  While this was fun to think about at the wise age of 17, it would prove to be easier said than done.
The reason I started in healthcare is very similar to many others.  I watched my mother, father, and eventually, sister requires Physical Therapy at one point in time for various reasons.   Soon enough I followed right behind them with recurrent low back pain when I was 15. 
The physical therapist we all went to was a man named Ira in Staten Island, and he was the best.  I am not commenting on his abilities as a physical therapist per se, but on that as a human being. 
No matter your age, your background, or your occupation, Ira would light up a room and instantly connect with you.  He may not have offered "traditional" PT, but could he ever make you feel better? 
He was an encyclopedia of knowledge, and most importantly he surrounded himself with a good team.  The fact he drove a blue Corvette may have also influenced my decision to give this whole physical therapy thing a try.
I am lucky.  I will always be the first to admit that.  In most things in life, I have been successful.  I got through school, passed my boards, got a great job, and met the person that would become my wife.  Things were easy until they weren't.
Going through a divorce is tough.  Perhaps the biggest hurdle to overcome for me was the idea that what "would never happen to me," was happening to me. My old mantra did not seem like it would be able to carry me through. My belief system was shattered in an instant.
As healthcare professionals, there are few things most of us value more than our bodies.  Mine began to suffer.  Lack of sleep, lack of exercise, and poor eating habits started to result in me losing weight, appearing drawn, and ultimately in me being fatigued all the time. 
Since the body and the mind are inseparable, depression would soon follow.  Perhaps it was pride, denial, or a combination of both, but I didn't begin to seek help until it was almost too late.  Work started to be affected as my colleagues and patients knew I was not myself, but it was almost impossible to talk to anyone about what I was feeling or what I was going through. 
My story became one of guilt, sadness, disbelief, and even a feeling of being unworthy.  That all came crashing to a head the day I fell asleep while driving, on a crowded highway.
It was not just my inner world that was affected but my outer world as well.  I did not lean on my friends or family, and more often than not I would push them away.  My environment changed as I would eventually adjust to living at home and then on my own. 
I would spend 6+ hours a day in the car.  I would drive to work, then to my daughter to pick her up from school, then back home.  While I was in the car the only thing I would listen to was sports radio. I got really good at counting how many times each of the shows spoke about the same things.  This was all while leaving a job that I had loved for several years to take another where I would only last for 4 months.  Four months because I was fired.
Had it not been for a smile and the support from a girl in an elevator, the strength I would pull from my then 3-year-old daughter, and a simple "Thank You" card, I am not sure what my life would look like right now. After I was fired I knew that it was not the end of a chapter, but the beginning of an entirely new story.
The "thank you" card is worth a mention.  While rehabbing a client recovering from an ACL surgery, the process started off as anything but easy. I did my best and tried everything I knew, but ultimately I felt like I was failing. 
Luckily this patient had a wonderful support system in her boyfriend who would attend every visit and cheer her on and support her.  I could not understand for a long time why or how her knee could be so sensitive to everything we did. 
Movement, touch, modalities, nothing seemed to work.  It would soon make sense.  As her rehab journey progressed and she was ultimately discharged we remained close.  I was invited over for a goodbye cocktail when they let me know they would be moving to CA.  They said they "got me something," and handed me a card.  In it, was her story. 
The reason she had been so timid, so sensitive, and was having such a hard time in therapy, was because she was abused as a child. It had been very difficult to trust men since that time, but I had been able to provide her comfort and earn her trust through a time when she did not think she would return to doing the things she loved. 
This was a wake-up call in the way that I would treat patients.
I started Strength in Motion Physical Therapy in March of 2018. Around that time I was also able to cease therapy, having finally become comfortable with myself and my path again. I recommitted to reading and listening to audiobooks to help me better understand the things that I was struggling with and to help me realize that there was so much more I could do for myself and my patients. 
I changed the way I trained that year when a simple question from a good friend, "why can't you start today?" was the reply I got back when I told him I would be "hiring" him after the holiday season.  I got engaged to my best friend and a true partner in life, Dr. Courtney Conley. I reconnected with friends, saw my family more, and created a new environment to work and live in. And I finally believed "when do things not work out," again.
Joe LaVacca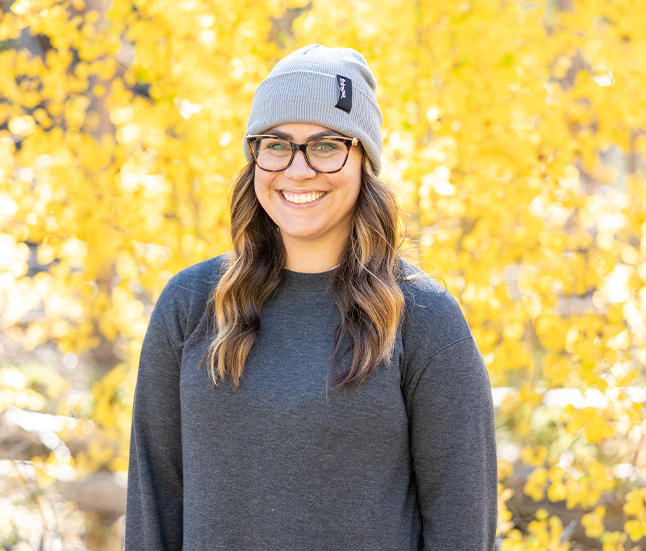 Abby Kramer, DC
BUSINESS DEVELOPMENT
Bio:
Dr. Abby's mission is to empower others to feel and function as their most vibrant selves. Through her personal history of medical struggles, she realized that her symptoms were her bodies' way of communicating deep physical, mental, and emotional imbalances. Dr. Abby has been inspired to bring that same type of healing transformation to her patients – becoming one of the foremost voices for progressive, holistic medicine in the Greater Chicago area.
It's Personal:
When I look back at my story, of what has gotten me to the point I am at now, there are many inflection points. A big part of my story was growing up as a competitive swimmer. In high school, I spent my days at the pool and learned the importance of how important it is to take care of our physical bodies.
I learned the value of pushing your body past its limits and how powerful the mind is (it can truly make or break a race). At this time, however, I had no idea the impact things like diet, nutrition, bodywork, chiropractic care, etc. could have on performance.
Fast forward a handful of years and I decided to major in human movement sciences. I delved deep into courses like kinesiology, anatomy, and biomechanics which fascinated me. When I was deep into my program my senior year, I was in a car accident.
Luckily I wasn't majorly injured, but I suffered a pretty brutal bout of whiplash. I had never been in such extreme neck pain, so I quickly made an appointment at the student health clinic. I was given a round of pain meds and muscle relaxers, which were "fun" for a couple of days, but then the pain came right back. In a moment I can only explain divine intervention, the thought crossed my mind that I needed to see a Chiropractor. Mind you, I had NEVER been to a chiropractor before, and basically had no idea what they did.
I got a recommendation from one of my professors who was a Physical Therapist and made an appointment right away. After just 1 treatment, my pain was at least 80% gone. I was amazed! I then became a Chiropractic junkie and maintained regular care from that point on.
Fast forward another couple of years and I was working as a personal trainer realizing that I wasn't happy. I wanted to learn more, to help my clients in a more in-depth way, and I didn't love the personal training industry. I knew I wanted to further my education.
I explored many options like PT, PTA, traditional medical school, OT, and Chiropractic. Chiropractic was the perfect fit for me, especially with my personal experience of its benefits. I finished a couple of courses that I needed before beginning the program and started right away.
Simultaneously, I was experiencing horrible chronic migraine headaches. I had seen several neurologists who had all just said it was "normal" and I could medicate or just deal with it. I had tried many medications, all of which either did not work or made me feel horrible. So, constant consumption of Excedrin migraine it was.
Entering chiropractic school, really concerned me with how I'd be able to keep up with the intense course load while experiencing headaches that laid me out completely 3-4 times per week.
As I began my training I was quickly introduced to the holistic model of chiropractic care. I jumped head first into the worlds of Applied Kinesiology, diet, supplements, nutraceuticals, and mind/body stress relief practices to address the patient as a whole.
Taking this approach with myself by making significant diet changes, taking the appropriate supplements for my imbalances, and incorporating breathwork and energy healing modalities, I've been migraine free since. Once I saw the proof in the pudding, I was hooked. This is how I wanted to help my patients in practice, and the type of care everyone deserves!
When I received the phone call from Alyson about her new company "Fringe" I had chills the entire time we spoke (that's my personal gauge of something being a "hell yes!").  Her vision to help others experience less pain, sleep better, and handle stress in a more harmonious way completely spoke to me.
She has assembled a brilliant team, which I am incredibly honored to be part of. We're here to help as many people as possible find more harmony in their body, mind, and environment…and ultimately heal. We can't wait to share more with you, and are so happy to have you as part of our community!
See you on the fringe,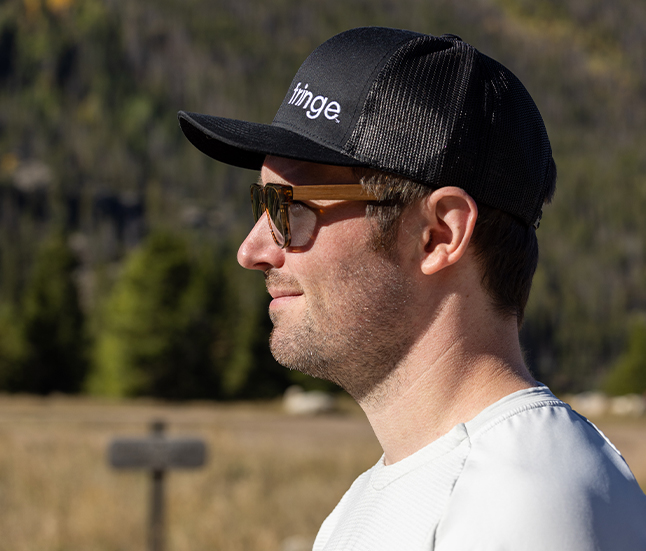 Thomas Buxton, MBA
Sr. Manager Sales & Operations
Bio:
Thomas Buxton has spent the last 10 years in the health and wellness industry. His roles have spanned between sales and people manager and his passion lies in adding value to those around him. Thomas is the Market Activations Manager at Fringe. You can find him helping to facilitate the media being produced by Fringe or working with its many partners to bring to life their involvement with the company. Thomas lives in the Pacific Northwest and is an avid lover of breakfast and coffee at a reasonable hour.
It's Personal:
"Thank goodness that gaming is in my life." I'm sure I have felt that way in some capacity for the 20+ years that games have been in my life, though this is probably the first time trying to explain it in a professional manner. Their role also continues to change and evolve in a way that I never expected. It's the universal positivity and versatility that has kept gaming a passion of mine, but it's only been in the last 5-10 years that it aligned so well with what brought me to Fringe.
I was always a member of sports teams growing up. That continued through graduate school where I was involved with Track & Cross Country in a coaching capacity. These were some of the best years of my life and the inherent social circle that came along with it was, whether I knew it or not, one of my favorite parts. This also meant that I never learned how to create or seek out a community; it was always handed to me. No one tells you that adulting and making genuine friends is a bit of a crapshoot. Stack on top of that a career path that over time I fell out of love with, and gaming became a social circle combined with what I've referred to as "sudoku on steroids." It's something to keep my brain busy and challenge me mentally. In case that wasn't complex enough, stir in challenges with stress and anxiety that have grown progressively worse since my early twenties. I get things I want from my gaming experiences and, at times, it feels like I am getting things I need from them as well.
So how does this relate to Fringe? It just so happened that a day of stress and anxiety matched with a day of catching up with my old friend Anthony. I went into detail about the mental distraction gaming can play but then went on a tangent (as I do) about the social support I gained from it. I imagine this has been heightened as I sit here typing this 15 months into social distancing. Being single and living alone, I am really socially distancing. The friendships and shared passion that I get from these gaming Facebook and Discord groups are most of where I get my joy, outside of gaming itself. Anthony is who suggested it, but I think we both were feeling the synergy in linking the support I was speaking about with Fringe's passion for community. For so many, gaming is the thing you happen to be doing while you're engaging with a community. And, for those, that's where the real value lies.
I went to work trying to validate the positive impact of gaming. Every time I go down the google rabbit hole, I find myriads of supporting stories and articles – everything from eyesight and reaction time to community engagement and meaningful relationships. Many online communities (gaming or otherwise) allow people to share and support common interests. Some of the best communities go one step further to root themselves in those shared interests but expand their positive impact deeper into a person's life. I love that I get social engagement and problem-solving out of my gaming….I would also love to address my social anxiety and be encouraged to participate more in the physical world. I firmly believe that the right online community can be a resource to help someone gain healthy practices while also improving their life outside of gaming. Fringe will be this kind of community but also find and champion the countless people already operating in this way.
What happens now? Fringe will launch and exist very much the way it was always planned to. My involvement means that, in addition to that, we will be seeking out content creators who share our same values and have created communities that might benefit from the Fringe factors. My goal is to create genuine partnerships with these people and support the things they do while also plugging them into the Fringe community to help support each other. I have a sufficient amount of imposter syndrome about how to make this a reality. BUT… I have never stood before such an overlap of something I enjoy and something I am passionate about. That seems like a fantastic north star while we figure this thing out together!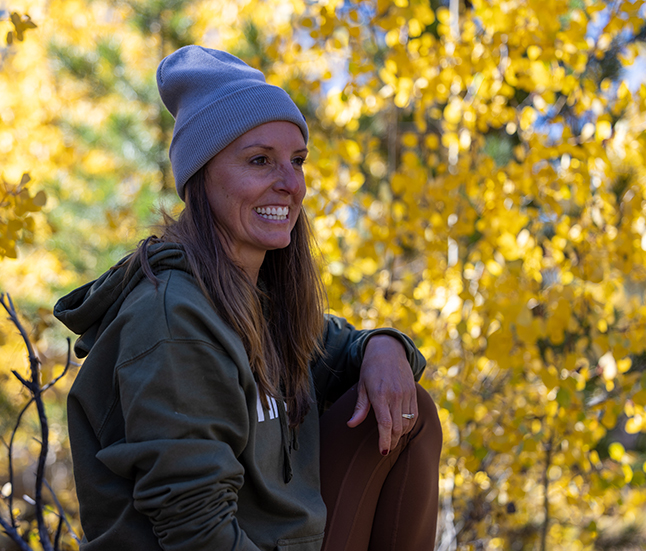 Bio:
Dr. Beth Rizer is a Chiropractor from Parker, Colorado. Beth owns and operates an Integrated Wellness Center with her husband Dr. Ryan. Beth is a Western States graduate and is Board Certified in Physical Therapy. Beth is passionate about optimizing human potential in all facets including movement, health, nutrition, and mindfulness.
It's Personal:
"Many people look upon my life, see who I am today and think I have always been this way. Positive. Driven. Self-Motivated. Healthy. Happy… but that was not always the case.
Growing up, my life wasn't the easiest. We were poor, living in a single wide mobile home with holes in the floor and buckets under the leaks to catch the water.  We ate processed foods and really anything my mom could afford to put on the table. I battled my father's drug addiction and domestic abuse which led to many health issues.
I had several learning disabilities and never did well in school.  I cheated my way through most of the elementary and middle school and left with so many insecurities.  My mother, who was an amazing woman, did her best working many hours to put food on the table and pay for our extracurricular activities.
Fast forward a few years, I graduated from Texas A&M University and got an amazing job as a sports therapist. I found myself always wanting to do my best. I started this job but my health was fading fast.  I was falling asleep at my desk (even after 8 hours of sleep), with ADHD, anxiety, muscle pain, intestinal issues, etc. I went to the medical doctor and of course, the answer was more prescription medications.
I found this amazing naturopathic physician that really believed our bodies were meant to heal themselves and she helped me get my body back to homeostasis and harmony.  This was a life-changing event in my life.
I put in the hard work to get healthy and after 6 months of focused diet, meditation, supplementation, and healthy movement, I was off all medications and felt amazing. I never knew I could feel that good and I realized then I had to help people reach their full potential through health and wellness.
I became a holistic chiropractor that focuses on movement, nutrition, and mindfulness. I have dedicated my life to helping people find the same harmony I did for the last 15 years.
Dr. Alyson, a mentor of mine, came to me raving about a holistic health company called Fringe. This education is focused on improved harmony in our bodies as well as cannabis education.  This was a synchronistic moment in my life because cannabis has been a HUGE part of my healing.
Instead of ADHD and anxiety medication, non-psychoactive Cannabis took the place of those medications and helped me find more balance and awareness in myself.
I was introduced to Cannabis medicine at a young age.  My father had a severe accident at work and hurt his back. He broke several bones, severed several organs, and physically could not work because of the pain and dysfunction.  He found cannabis medicine that helped him function and live his life. He grew and harvested his own cannabis. I watched him do this week after week, always saying it was medicine.
One day we got a call from the police department charging my dad with growing illegal cannabis.  He then turned to opioids for his pain, anxiety, and sleep issues.  He became addicted and when he could no longer afford the opioids he turned to street drugs like meth and heroin.  You can imagine the stress this put on our family.
Now that I know what I know, cannabis and education around our endocannabinoid system needs to be at the forefront of our education.
So when Alyson put together a FRINGE company talking about how this plant medicine could be used to heal, I WAS ON BOARD.  Do you know someone that has suffered from sleep dysfunction, pain, and anxiety that has taken them away from their true potential? This education is for you and we couldn't be more excited to share it with you.
Love,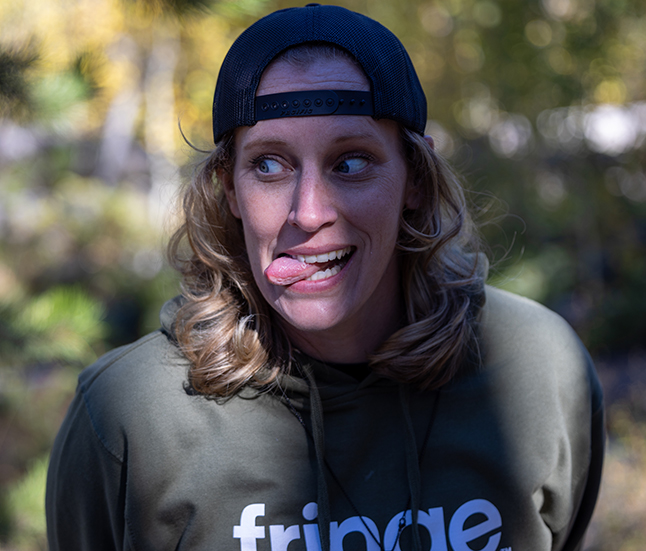 Jennifer Miller
DIRECTOR OF SALES
Bio:
After 5 years in the cannabis industry, Jen came back to her health and wellness roots as Sales Director for Fringe. Building brands, leading sales teams and creating opportunities are skills Jen has refined over the years working with the top running brands and cannabis distributors. The mission behind Fringe and how they're going to help heal the world, run parallel with Jen and her beliefs and she's looking forward to sharing the Fringestate to as many people as she can.
It's Personal:
I've represented and sold two products my entire life, running shoes and cannabis. And to be honest, I am not fond of running and at the time wasn't using cannabis. 
When I started looking for a job, as an athlete I gravitated towards the health and wellness space as a hobby, but quickly realized it's more of a passion. When I learned I could combine both sports and my skill set of Sales, it was a no brainer. 
My dad had passed away suddenly in 2016 and the responsibility of closing up his affairs fell into my lap.  And if you've ever lost someone close to you, you learn that although we're grieving, death is still a business.  I was extremely anxious with the process and my Mom had suggested I smoke some CBD. I have consumed my fair share of weed in college and wasn't interested in getting high any longer, but after her persistence, I gave in. And I was so glad I did. 
I experienced first hand how cannabis can help with anxiety, focus and mood without being blazed off my ass.
This was my reason why after working in the running industry for 15 years, I took a leap of faith and jumped into the legal start up of cannabis in CA.
During this time, my dear friend, Anthony, decided to build the world of Fringe with Alyson. We spoke often as there was clearly a crossover between cannabis and CBD. I loved their product, the mission of why they created Fringe and the idea of selling CBD to medical professionals.  I was preaching medicinal benefits of cannabis in my job, but why people were walking into dispensaries (to get high as shit) was very different then why Fringe was helping patients in medical facilities (pain, sleep, stress). 
The pathway to join Fringe and lead their Sales division presented itself and knowing I could go back to my roots in health and wellness, bring my new extensive knowledge of Cannabis and the hustle it takes to build a brand, all while working with my best friend and some top tier colleagues from the past…. It was another no-brainer decision for me. 
"Plant seeds of happiness, hope, success, and love; it will all come back to you in abundance. This is the law of nature."
happy healing, love fringe